Other Level Resources:
Walkthrough - Go here for the complete level walkthrough.

Secrets & FAQ Page - Go here for pictures of all the secrets in this level, as well as some frequently asked questions.

Route Map - Go here for an overview of the route that you will take through this level.
---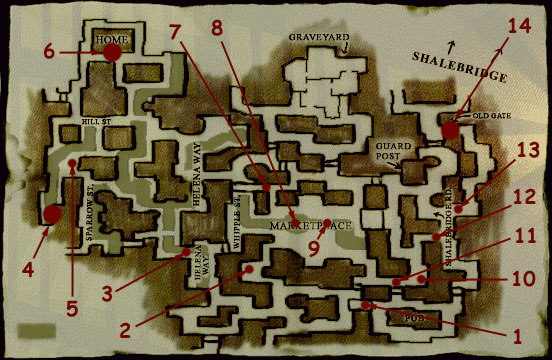 Water arrows amongst plants
[30 Gold, 0 Gems, 0 Goods, 30 Total] - 1 Copper coin stack and 1 Golden cup upstairs upstairs
Sewer passage to Helena Way in street
[200 Gold, 0 Gems, 0 Goods, 230 Total] - Purse in moat (underneath "W" torch holder)
(EASTER EGG - Click Here for Details) Indestructible arrow
[137 Gold, 0 Gems, 0 Goods, 367 Total] - 1 Gold coin stack, 1 Silver coin stack and 5 lucky coins on grocery store counter
Home - Secret stash in closet (including the total loot obtained in the last mission)
[0 Gold, 0 Gems, 50 Goods, 417 Total] - Golden wine bottle at end of breezeway on roof
Water arrow in fountain
[100 Gold, 0 Gems, 0 Goods, 517 Total] - Purse on guard's belt on bridge
[25 Gold, 0 Gems, 0 Goods, 542 Total] - Gold coin stack on table, switch to south pub area bridge, key to Shalebridge road
[50 Gold, 0 Gems, 0 Goods, 592 Total] - Purse hidden in doorway at top of stairs
Shalebridge road doors
Lieutenant Mosley's house
The old Shalebrigde gate
Grand Totals = 542 Gold, 0 Gems, 50 Goods = 592 Total Loot + Loot obtained in last mission
Maximum Possible Loot = 592 + 1378 (maximum loot amount from last mission) = 1970

Travel to: Keepers' Chapel / Strategy Index / Thief-

TheCircle.com (home) / Go Back