Other Level Resources:
Walkthrough - Go here for the complete level walkthrough.

Secrets & FAQ Page - Go here for pictures of all the secrets in this level, as well as some frequently asked questions.
MAP KEY:
(S) = Secret
C = Camera & Turret Controls
IMPORTANT NOTES:
All guard locations on the following maps are approximate (most guards have a specific patrol pattern).
The secret locations on the first floor map are all correct. The second floor map has a few errors in it (which I'm too lazy to fix). Take a look at the secrets page for the exact locations of all the secrets.
---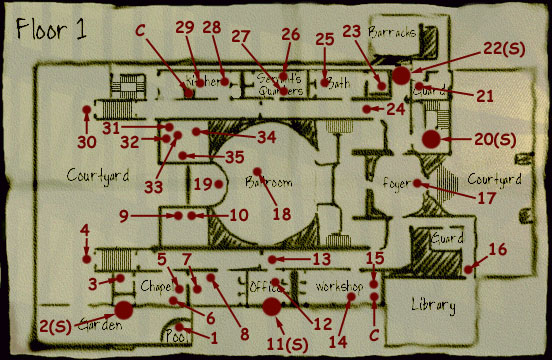 [60 Gold, 0 Gems, 0 Goods, 60 Total] - 3 lucky coins in pool
(SECRET #1 - Click Here for Details) - Small switch that opens secret door. Switch is located on the wall just above the little storage shed (climb up on top of the adjacent crates to get on top).
Flash Mine in corner of room
[100 Gold, 0 Gems, 0 Goods, 160 Total] - Purse on guard's belt (outside)
[40 Gold, 0 Gems, 0 Goods, 200 Total] - 2 lucky coins on altar
[20 Gold, 0 Gems, 0 Goods, 220 Total] - 1 lucky coin on window sill
[40 Gold, 0 Gems, 0 Goods, 260 Total] - 2 lucky coins on table
[20 Gold, 0 Gems, 0 Goods, 280 Total] - 1 lucky coin on table
Flare
[50 Gold, 0 Gems, 0 Goods, 330 Total] - 1 candlestick in crate
(SECRET #2 - Click Here for Details) - Small switch above desk opens secret door in southern most closet.
[20 Gold, 0 Gems, 0 Goods, 350 Total] - 1 lucky coin on planter
[100 Gold, 0 Gems, 0 Goods, 450 Total] - Purse on guard's belt in hallway
[40 Gold, 0 Gems, 0 Goods, 490 Total] - 2 lucky coins on desk
[20 Gold, 0 Gems, 0 Goods, 510 Total] - 1 lucky coin on ledge near camera controls
[20 Gold, 0 Gems, 0 Goods, 530 Total] - 1 lucky coin on window sill near clock
[100 Gold, 0 Gems, 0 Goods, 630 Total] - Purse on guard's belt in foyer
Cuckoo mechanism (needed to open secret door to third floor)
[100 Gold, 0 Gems, 0 Goods, 730 Total] - Purse on guard's belt (outside)
(SECRET #3 - Click Here for Details) - Small switch on column base opens door to empty room beneath stairs.
[20 Gold, 0 Gems, 0 Goods, 750 Total] - 1 lucky coin on desk in guard station
(SECRET #4 - Click Here for Details) - Slash banner to reveal a small switch which opens the hidden north passage.
[20 Gold, 0 Gems, 0 Goods, 770 Total] - 1 lucky coin on bathroom sink
[100 Gold, 0 Gems, 0 Goods, 870 Total] - Purse on guard's belt in northern hallway
[20 Gold, 0 Gems, 0 Goods, 890 Total] - 1 lucky coin on ledge next to bathtub
[25 Gold, 0 Gems, 0 Goods, 915 Total] - Stack of copper coins in crate
[45 Gold, 0 Gems, 0 Goods, 960 Total] - Stack of silver coins in crate
[0 Gold, 0 Gems, 150 Goods, 1110 Total] - 3 golden wine bottles on northern end of kitchen table
[0 Gold, 0 Gems, 80 Goods, 1190 Total] - 2 spice bags in cabinet
[100 Gold, 0 Gems, 0 Goods, 1290 Total] - Purse on guard's belt (outside)
[150 Gold, 0 Gems, 0 Goods, 1440 Total] - Golden plate in crate under stairs
[100 Gold, 0 Gems, 0 Goods, 1540 Total] - Golden cup in crate under stairs
[25 Gold, 0 Gems, 0 Goods, 1565 Total] - Golden cup in crate on big box
[25 Gold, 0 Gems, 0 Goods, 1590 Total] - Golden cup on big crate
[25 Gold, 0 Gems, 0 Goods, 1615 Total] - Golden cup behind sofa
---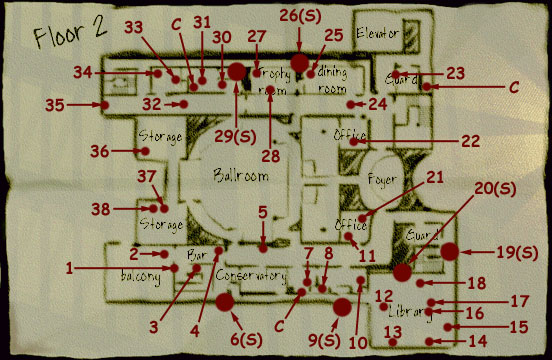 [40 Gold, 0 Gems, 0 Goods, 1655 Total] - 2 lucky coins on window sill
[100 Gold, 0 Gems, 0 Goods, 1755 Total] - Purse on guard's belt (just outside the bar room)
[40 Gold, 0 Gems, 0 Goods, 1795 Total] - 2 lucky coins on the bar itself
[40 Gold, 0 Gems, 0 Goods, 1835 Total] - 2 lucky coins on planter
[20 Gold, 0 Gems, 0 Goods, 1855 Total] - 1 lucky coin to the left of the turret (in turret bay)
Small switch on wall of bar (southeastern corner) opens same secret passage as loot location #9 below.
[20 Gold, 0 Gems, 0 Goods, 1875 Total] - 1 lucky coin on ledge near camera controls
Healing Potion
(SECRET #5 - Click Here for Details) - Small switch in middle closet opens southern hidden passage.
[60 Gold, 0 Gems, 0 Goods, 1935 Total] - 3 lucky coins on corner table
[20 Gold, 0 Gems, 0 Goods, 1955 Total] - 1 lucky coin on floor between northern chair and table
Book (in bookcase). This is one of the five books that must be read to get the correspondence from Karras to Gervaisius.
[20 Gold, 0 Gems, 0 Goods, 1975 Total] - 1 lucky coin on window sill
Book (in bookcase). This is one of the five books that must be read to get the correspondence from Karras to Gervaisius.
[40 Gold, 0 Gems, 0 Goods, 2015 Total] - 2 lucky coins can be found on the table next to the last shelf on the second floor of the library. Note that this area can only be accessed once the five books have been read. This is where you will find the correspondence.
Book (on table). This is one of the five books that must be read to get the correspondence from Karras to Gervaisius.
[40 Gold, 0 Gems, 0 Goods, 2055 Total] - 2 lucky coins on table (next to the book)
Book (in bookcase). This is one of the five books that must be read to get the correspondence from Karras to Gervaisius.
(SECRET #6 - Click Here for Details) - Place the cuckoo mechanism in the clock and then set the clock hands to 12:00. This will open the secret passage to the third floor (completing your main objective in the process).
(SECRET #7 - Click Here for Details) - Book (in bookcase). This is one of the five books that must be read to get the correspondence from Karras to Gervaisius. This book actually is a switch - it opens a secret room that reveals two dead bodies. If you follow the story through the five books that need to be read, you will realize who these bodies really are.
[20 Gold, 0 Gems, 0 Goods, 2075 Total] - 1 lucky coin on desk
[40 Gold, 0 Gems, 0 Goods, 2115 Total] - 2 lucky coins on desk
[20 Gold, 0 Gems, 0 Goods, 2135 Total] - 1 lucky coin on window sill
[100 Gold, 0 Gems, 0 Goods, 2235 Total] - Purse on guard's belt
[40 Gold, 0 Gems, 0 Goods, 2275 Total] - 2 lucky coins floating in the northwest corner of room (this is very strange).
(SECRET #8 - Click Here for Details) - Small switches to either the Dining room or Trophy room closet ceilings will open up the hidden northern passage.
[40 Gold, 0 Gems, 0 Goods, 2315 Total] - 2 lucky coins on corner table
Noisemaker arrow in chest
(SECRET #9 - Click Here for Details) - Small switch behind banner opens a secret door to the northern security control room.
[20 Gold, 0 Gems, 0 Goods, 2335 Total] - 1 lucky coin behind couch
[20 Gold, 0 Gems, 0 Goods, 2355 Total] - 1 lucky coin on ledge inside security booth
[100 Gold, 0 Gems, 0 Goods, 2455 Total] - Purse on guard's belt
[40 Gold, 0 Gems, 0 Goods, 2495 Total] - 2 lucky coins on bedside table
[20 Gold, 0 Gems, 0 Goods, 2515 Total] - 1 lucky coin on desk
[20 Gold, 0 Gems, 0 Goods, 2535 Total] - 1 lucky coin in window sill
[100 Gold, 0 Gems, 0 Goods, 2635 Total] - 2 golden candlesticks behind boxes and four wooden candlesticks
[50 Gold, 0 Gems, 0 Goods, 2685 Total] - Golden candlestick in crate
Flare
Grand Totals = 2455 Gold, 0 Gems, 230 Goods = 2685 Total Loot
Travel to: Keepers' Chapel / Strategy Index / Thief-TheCircle.com (home) / Go Back