Other Level Resources:
Walkthrough - Go here for the complete level walkthrough.

Secrets & FAQ Page - Go here for pictures of all the secrets in this level, as well as some frequently asked questions.

Route Map - Go here for an overview of the route that you will take through this level.
---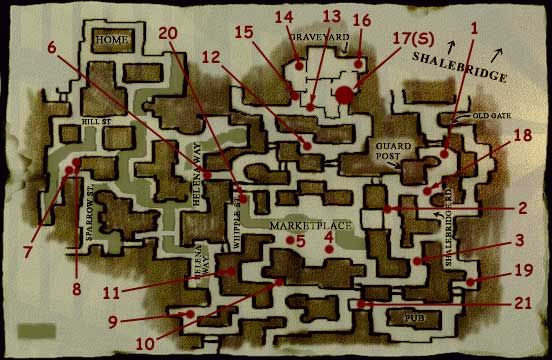 Please note that all of the purse locations given below designate general areas where the guard or peasant stays for the majority of the map. Most AIs have a patrol route, so the purses may not be in the exact location as specified in the map or text below.
Healing potion on guard's belt
[100 Gold, 0 Gems, 0 Goods, 100 Total] - Purse on guard's belt
[100 Gold, 0 Gems, 0 Goods, 200 Total] - Purse on female peasant's belt
[50 Gold, 0 Gems, 0 Goods, 250 Total] - Purse on male peasant's belt
[100 Gold, 0 Gems, 0 Goods, 350 Total] - Purse on guard's belt in market square
[100 Gold, 0 Gems, 0 Goods, 450 Total] - Purse on guard's belt
Flares and Invisibility potion
Letter drop point
Healing potion
[25 Gold, 0 Gems, 0 Goods, 475 Total] - Gold coin stack behind arches
[30 Gold, 0 Gems, 0 Goods, 505 Total] - Gold cup and Copper coin stack upstairs
[50 Gold, 0 Gems, 0 Goods, 555 Total] - Purse on guard's belt
Mechanist attack point for second courier
[50 Gold, 0 Gems, 0 Goods, 605 Total] - 2 Gold cups in crypt
Portal to pagan hideout
[0 Gold, 0 Gems, 50 Goods, 655 Total] - Goblet in crypt
(SECRET #1 - Click Here for Details) - Toggle torch in crypt (or on outside wall) for side exit/entrace
[100 Gold, 0 Gems, 0 Goods, 755 Total] - Purse on guard's belt
[25 Gold, 0 Gems, 0 Goods, 780 Total] - Purse on guard's belt
[50 Gold, 0 Gems, 0 Goods, 830 Total] - Gold wine bottle on ground behind guard
Moss arrows
Grand Totals = 780 Gold, 0 Gems, 50 Goods = 830 Total Loot

Travel to: Keepers' Chapel / Strategy Index / Thief-

TheCircle.com (home) / Go Back