Other Level Resources:
Walkthrough - Go here for the complete level walkthrough.

Secrets & FAQ Page - Go here for pictures of all the secrets in this level, as well as some frequently asked questions.
MAP KEY:
(S) = Secret
C = Camera & Turret Controls
IMPORTANT NOTES:
All guard locations on the following maps are approximate (most guards have a specific patrol pattern).
---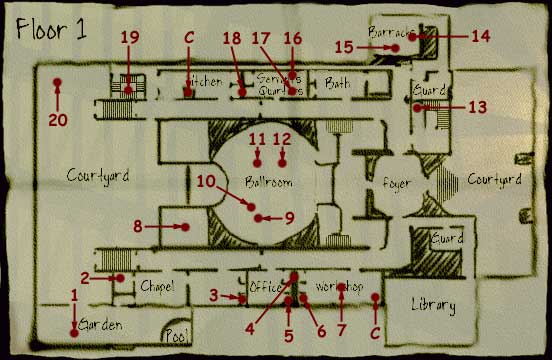 Moss arrow
Healing potion
[50 Gold, 0 Gems, 0 Goods, 50 Total] - Purse in chest
[75 Gold, 0 Gems, 0 Goods, 125 Total] - Purse in crate in secret hall
Broad head arrow in crate in secret hall
[0 Gold, 100 Gems, 0 Goods, 225 Total] - Gemstone in chest in south closet
Mine on workbench
[100 Gold, 0 Gems, 0 Goods, 325 Total] - Golden plate on box
[0 Gold, 0 Gems, 50 Goods, 375 Total] - Mask on display
[0 Gold, 0 Gems, 75 Goods, 450 Total] - Idol on display
[0 Gold, 0 Gems, 150 Goods, 600 Total] - Lost city tapestry on display
[0 Gold, 0 Gems, 50 Goods, 650 Total] - Mask on display
[125 Gold, 0 Gems, 0 Goods, 775 Total] - Gold coin stack in chest in secret room (switch on column)
[40 Gold, 0 Gems, 0 Goods, 815 Total] - Purse in crate
[30 Gold, 0 Gems, 0 Goods, 845 Total] - Purse in crate
[25 Gold, 0 Gems, 0 Goods, 870 Total] - Gold coin stack in crate
[25 Gold, 0 Gems, 0 Goods, 895 Total] - Gold coin stack in crate
Slow fall potion in crate in secret hall
[0 Gold, 175 Gems, 0 Goods, 1070 Total] - Gemstone in chest under stairs
Moss arrow
---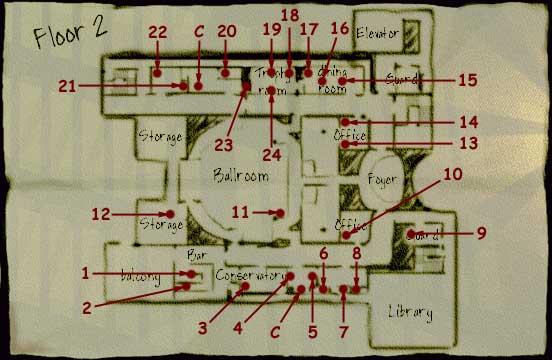 [12 Gold, 0 Gems, 0 Goods, 1082 Total] - Silver coin stack on shelf behind bar
[25 Gold, 0 Gems, 0 Goods, 1107 Total] - Purse on bar, water arrow
[25 Gold, 0 Gems, 0 Goods, 1132 Total] - Purse on table near harp
[20 Gold, 0 Gems, 0 Goods, 1152 Total] - Lucky coin on couch
[60 Gold, 0 Gems, 0 Goods, 1212 Total] - Golden ring on couch
Healing potion in chest in closet
[100 Gold, 0 Gems, 0 Goods, 1312 Total] - Gold nugget in chest in closet
[100 Gold, 0 Gems, 0 Goods, 1412 Total] - Gold nugget in chest in closet
[100 Gold, 0 Gems, 0 Goods, 1512 Total] - Purse in crate
[30 Gold, 0 Gems, 0 Goods, 1542 Total] - Purse on table
[0 Gold, 100 Gems, 0 Goods, 1642 Total] - Gemstone in box on southeast rafter
[100 Gold, 0 Gems, 0 Goods, 1742 Total] - 2 Gold candlesticks on box
[100 Gold, 50 Gems, 0 Goods, 1892 Total] - Golden Torc in safe
[25 Gold, 0 Gems, 0 Goods, 1917 Total] - Purse on dresser
[50 Gold, 0 Gems, 0 Goods, 1967 Total] - Gold candlestick on table
[50 Gold, 0 Gems, 0 Goods, 2017 Total] - Gold candlestick on table
[50 Gold, 0 Gems, 0 Goods, 2067 Total] - Gold candlestick on corner table
[20 Gold, 0 Gems, 0 Goods, 2087 Total] - Silver coin stack on table
Broad head arrow on fireplace
[20 Gold, 0 Gems, 0 Goods, 2107 Total] - Purse on table in big closet
[0 Gold, 100 Gems, 0 Goods, 2207 Total] - Gemstone in chest in closet
[25 Gold, 0 Gems, 0 Goods, 2232 Total] - Silver coin stack on desk
[100 Gold, 0 Gems, 0 Goods, 2332 Total] - Golden ring in crate in secret hall
Noisemaker arrow in chest
---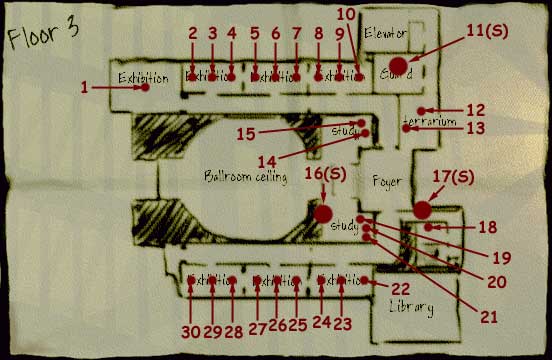 Cultivator - on display table
[0 Gold, 0 Gems, 50 Goods, 2382 Total] - Mask
[0 Gold, 0 Gems, 50 Goods, 2432 Total] - Mask
[0 Gold, 0 Gems, 50 Goods, 2482 Total] - Mask
[0 Gold, 0 Gems, 50 Goods, 2532 Total] - Mask
Precursor mask
[0 Gold, 0 Gems, 50 Goods, 2582 Total] - Mask
[0 Gold, 0 Gems, 50 Goods, 2632 Total] - Mask
[0 Gold, 0 Gems, 50 Goods, 2682 Total] - Mask
[0 Gold, 0 Gems, 50 Goods, 2732 Total] - Mask
(SECRET #1 - Click Here for Details) - Flip switch beneath north security switches to open secret door to hall
Moss arrow
Moss arrow
[0 Gold, 0 Gems, 50 Goods, 2782 Total] - Golden glasses in desk chair
Switch under desk opens small room under stairs in southern study
(SECRET #2 - Click Here for Details) - Switch to the right on desk opens passageway between studies
(SECRET #3 - Click Here for Details) - Switch on wall opens passage to foyer
[60 Gold, 0 Gems, 0 Goods, 2842 Total] - Gold coins on desk
[0 Gold, 200 Gems, 0 Goods, 3042 Total] - Purse on table in secret room under stairs
[100 Gold, 75 Gems, 0 Goods, 3217 Total] - Golden necklace on bed
[100 Gold, 0 Gems, 0 Goods, 3317 Total] - Purse in chest at foot of bed (upstairs)
[0 Gold, 0 Gems, 50 Goods, 3367 Total] - Mask
Precursor mask
[0 Gold, 0 Gems, 50 Goods, 3417 Total] - Mask
[0 Gold, 0 Gems, 50 Goods, 3467 Total] - Mask
[0 Gold, 0 Gems, 50 Goods, 3517 Total] - Mask
[0 Gold, 0 Gems, 50 Goods, 3567 Total] - Mask
[0 Gold, 0 Gems, 50 Goods, 3617 Total] - Mask
Precursor mask
[0 Gold, 0 Gems, 50 Goods, 3667 Total] - Mask
Grand Totals: 1742 Gold, 800 Gems, 1125 Goods = 3667 Total Loot
Travel to: Keepers' Chapel / Strategy Index / Thief-TheCircle.com (home) / Go Back